Bring home the Philips MMS2550B/94 home theatre system to immerse yourself in your favourite music and sound. This home audio system features 28 W of Power Output, 2.1 Channel setup, and a Wooden Cabinet for the speaker and subwoofer for rich, crisp, and immersive sound.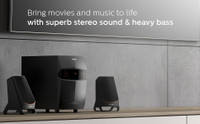 Exciting and Immersive Audio
The stereo sound with the rich bass of this home theatre system brings alive the sound of your favourite movies and songs.

28 W Output Power
This 2.1 channel Philips home theatre system delivers 28 W of output power to offer an immersive aural experience while listening to music, watching videos, and playing games.

Durable Wooden Cabinet with Matte Finish
The speakers and the subwoofer offer an exciting acoustic experience, thanks to their wooden cabinets.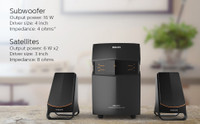 Powerful Sound
The power output of the subwoofer is 16 W and the driver size is 10.16 cm (4) to offer you a foot thumping audio experience.
Power Output(RMS): 28 watts
Wireless music streaming via Bluetooth