You can breeze through the summer with the Usha MAXX AIR pedestal fan that keeps you and your home cool and comfortable. It features three different speed settings that help you to customise the airflow according to your preference. The sturdy and robust design coupled with a sleek, stable base ensures that it won't topple during operation. Moreover, this pedestal fan comes with thermal overload protection that works by cutting off the circuit to prevent overheating and high-temperature burnouts.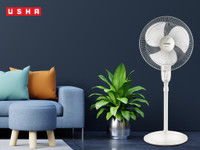 Efficient Cooling
The Usha MAXX AIR pedestal fan is a three-blade pedestal fan with a sturdy polypropylene body and aerodynamic blades that offer efficient cooling performance. It also incorporates an oil reservoir that provides lubrication to complement the performance. With a stable base, this fan delivers wide and jerk-free oscillations. The tilting mechanism and the three-step speed control helps you adjust the direction of the airflow for maximum comfort.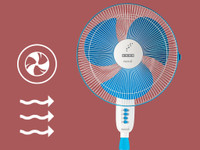 Aerodynamic Blades
The blades of this pedestal fan are aerodynamically balanced to ensure a high air delivery rate, enabling a powerful stream of air that helps to keep you comfortable during hot sultry days.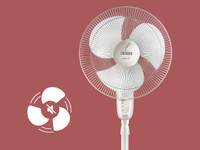 Easy Maintenance
The strong and resilient blades, made of high-quality polypropylene (PP), provide a strong airflow with minimal noise. These blades can be cleaned with just a simple swipe, helping you save time on cleaning and maintenance.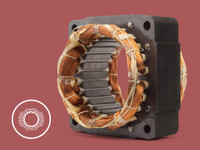 100% Copper Motor
The motor of this pedestal blade is made of 100% copper and consumes low power at peak operational speed, ensuring an energy-efficient performance.
Thermal Overload Protection
The Auto Resettable Thermal Overload Protector of this pedestal fan prevents overheating and protects the motor from damages caused by voltage fluctuations. It disconnects the circuit temporarily in case of a power overload to keep the fan and its motor safe.
Type: Pedestal Fan
Motor Speed: 1280 RPM
Power Consumption: 60 W
Blade Sweep Size: 400 mm
Air Flow: 75 cfm
Number of Speed Settings: 4
Material: Plastic