Featured Products
Regular price
Rs. 7,874.00
Rs. 10,499.00
Regular price
Rs. 10,990.00
Regular price
Rs. 13,999.00
Rs. 15,000.00
Sidebar
LG Puricare Water Purifier WW180EP (8 Litres)
Rs. 27,500.00 Rs. 33,990.00
Eating healthy food and drinking clean water every day can keep you fit. However, washing fruits and vegetables in tap water can sometimes invite more harm than benefits. So, bring home this LG purifier to drink clean water and also to wash fruits and vegetables by using the water from it. It comes with a 2-in-1 Water Solution feature, which supplies clean water through its UF filter so that you can wash your fruits and vegetables with it. It also purifies the water through by using a 5-stage RO Filtration System, that kills germs and makes the water clean and drinkable. What's more, it also comes with a stainless steel tank and a Smart Display.
Getting access to clean and safe drinking water is now easy, thanks to LG's AA2E Plus water purifier.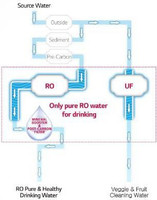 Five Stage RO Filtration System


Clean, fresh and safe drinking water is now at your fingertips, thanks to this water purifier's 5-stage RO filtration system. The outside pre-filter removes big particles of dust, mud and rust stains. The sediment filter eliminates unseen dregs and contamination. The pre-carbon filter eliminates harmful VOCs. The RO filter removes dissolved impurities, bacteria and heavy metals while the mineral booster and post-carbon filter help improve the taste of the water by adding essential minerals.


Dual Protection Stainless Steel Tank


To keep the water free from germs, dust, oil, insects and other impurities, this water purifier comes with an airtight sealing tank cover. What's more, this water purifier's tank is made of stainless steel which helps in maintaining the freshness of the water and prevents bacterial growth.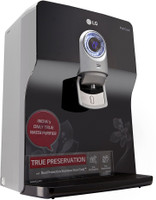 EverFresh UV Plus


To provide you with safe drinking water all day long, this water purifier sterilizes up to 99.9% of the bacteria and viruses by releasing UV LED radiations for 75 minutes every six hours in the preservation stage.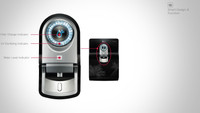 Smart Display


You don't have to manually keep a tab of when to change the filters as this water purifier comes with a Smart Display feature which indicates when the filters need to be changed. That's not all, this smart display feature also comes with a UV sterilizing indicator and a water level indicator.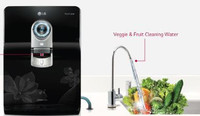 2-in-1 Water Solution


Do you wash fruits and vegetables with tap water? How sure are you about how clean or hygienic the tap water is? With this LG water purifier's 2-in-1 Water Solution feature, you can wash veggies and fruits in water that's processed through the UF filter system.

 




Electrical & Storage : Electric purification - suitable for areas with water shortage


8 L : More the capacity, more the users can be served with drinking water


RO + UV + UF : Uses many filters to remove salts & microbes in multiple stages